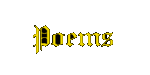 ---
By H.P. Lovecraft
The Cats -- Part of A Winter Wish and other poems by H.P. Lovecraft. A somewhat horrific cat poem.
Nemesis -- The last line of which has echoed in my mind upon awakening from a few particularly nasty nightmares.
Festival -- One of my favorite Lovecraft poems. Readers of Call of Cthulhu gamebooks may recognize this as "Yule Horror." It is now included here under its original title, along with the final stanza which was omitted in CoC.
Hallowe'en in a Suburb -- A Lovecraft poem for one of my favorites times of year.
---
...and my own
Following each title is a code showing other websites/e-zines or paper publications
in which these works have appeared. Explanations of the codes are:



IA -- The Innsmouth Archive
NS -- Nightscapes
MO -- Mythos Online


AA -- Al-Azif
CC -- Cthulhu Cultus
DL -- Dark Legacy
WOGA -- When Old Gods Awaken
TAT -- The Ancient Track

Information on purchasing these zines can be found at Ye Essential Links.

Beyond Light and Dark -- (IA, WOGA#1) background

In Ulthar -- (NS#3, IA, WOGA#1) background

Yule Fest -- (MO#6, IA, TAT October 98) Awarded Second Place in the poetry category of the 1997 MythosWeb Online Awards. background

Yuggoth on the Rim -- (NS#7, Imelod Autumn/Oct. 1998) background

On the Shore by the Ocean -- (AA#4) background

Where the Moon is Always Gibbous -- (TAT October 99) background

Haiku -- Another form of poetry that I've been trying to learn.

Best Poetry
Second Place
Yule Fest

Award copyright © 1998 Peter F.
Guenther; used with permission
---