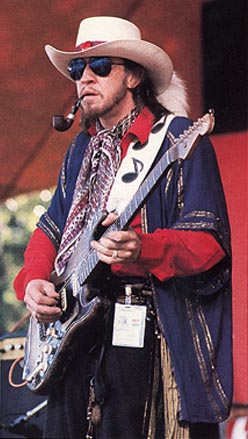 Stevie Ray Vaughan
October 3, 1954 - August 27, 1990
Pictured here at the Pori International Jazz Festival in Pori, Finland in 1985

With his astonishingly accomplished guitar playing, Stevie Ray Vaughan ignited the blues revival of the 1980s. Vaughan drew equally from bluesmen like Albert King, Otis Rush, and Muddy Waters and rock & roll players like Jimi Hendrix and Lonnie Mack, as well as the stray jazz guitarist like Kenny Burrell, developing a uniquely eclectic and fiery style that sounded like no other guitarist, regardless of genre. Vaughan bridged the gap between blues and rock like no other artist had since the late '60s. For the next seven years, Stevie Ray was the leading light in American blues, consistently selling out concerts while his albums regularly went gold. His tragic death in 1990 only emphasized his influence in blues and American rock & roll.

Stevie Ray Vaughan was killed in a helicopter crash in 1990 at the age of 35, a crash which also claimed the lives of the other four passengers.