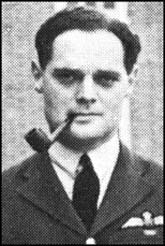 Sir Douglas Robert Steuart Bader
British fighter ace of World War II
(February 10, 1910 - September 5, 1982)

Bader joined the RAF as a cadet in 1928. On December 14, 1931 he attempted some low flying acrobatics in a Bristol Bulldog fighter, apparently as part of a dare, even though he had already stated that the airplane was not suitable for such acrobatics. The tip of the left wing of the plane touched the ground, causing it to crash. Following the accident Bader had both legs amputated six inches below the knee. He left the RAF, but, equipped with artificial legs, learned to fly again using artifical legs.

Upon the outbreak of war in 1939, Bader re-joined the RAF. By the summer of 1941, flying the Hawker Hurricane, Bader had shot down 23 German planes, the fifth-most prolific record in the RAF. On August 9, 1941 Bader collided mid-air with a German Messerschmidt over Le Tourquet. He was captured by German forces and after several escape attempts was sent to the Colditz prison. He remained there until the end of the war.

Upon his return to England he was chosen to lead the 300-plane victory flypast over London, so highly was he regarded. He left the RAF a year later-–the tedium of military service in peaceful times was no longer a desired option for him. In 1976 he was knighted for the services he had given to amputees.