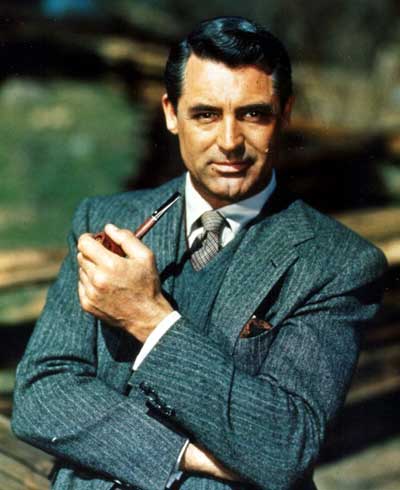 Cary Grant
English-born American actor
January 18, 1904 - November 29, 1986

Born Archibald Alexander Leach in Bristol, he was perhaps the foremost exemplar of the debonair actor, not only handsome but witty and charming.

He had a confusing and unhappy childhood. He attended Fairfield School in Bristol, but was expelled in 1918 after an incident involving the girls' toilets, and joined a stage troupe. The stage troupe brought Grant to the United States in 1920 and to Hollywood in 1931, which is when he started using the name "Cary Grant". He became an American citizen on June 26th, 1942.

Grant starred in some classic screwball comedies, including Bringing Up Baby, with Katherine Hepburn, and His Girl Friday. He also made The Philadelphia Story with Hepburn and Jimmy Stewart.

Alfred Hitchcock, who was notorious for disliking actors, was very fond of Cary Grant, and used him in four classic Hitchcock films: North By Northwest, Notorious, Suspicion, and To Catch a Thief, with Grace Kelly.

He was one of Hollywood's top box-office attractions for several decades. Although twice nominated for an Academy Award, he never won but was honored in 1970 with a special Academy Award for Lifetime Achievement. In 1981, he received the Kennedy Center Honors.

His fourth marriage was to actress Dyan Cannon, with whom he had his only child, a daughter.

In the last few years of his life, Grant undertook tours of the USA with his "An Evening with Cary Grant," in which he would show clips from his films and afterward hold a question-and-answer session with the audience. It was just before one of these performances--in Davenport, Iowa--that Grant suffered a severe stroke and died in hospital a few hours later.