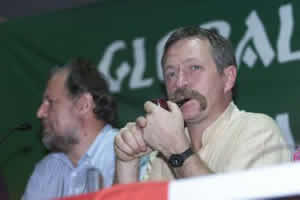 José Bové, French activist.

José Bové, sheep farmer and producer of Roquefort cheese, who has become an activist against globalization and genetically modified foods. He travels the world lecturing anyone who will listen on the evils of globalisation and genetically-modifed crops and has earned the nickname 'Asterix'--after a French comic strip character--for his determination to repel alien invaders in the form of foreign capitalist concerns. His appearances at anti-globalization gatherings in Seattle and Davos shot him to fame and his conviction for the trashing of a McDonald's fast-food restaurant in his home town of Millau served only to reinforce his reputation as a swashbuckling resistance hero.

Popular French singer Francis Cabrel has described Bove as "one of the last courageous, natural, honest voices left in a world where the rest are tarnished by compromise."