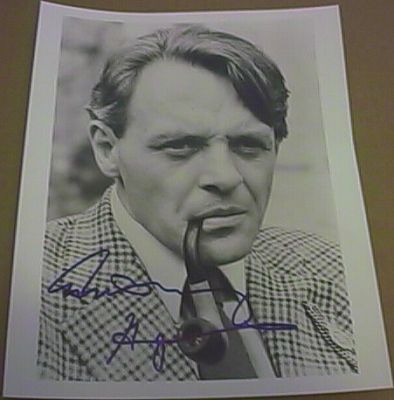 Welsh actor Anthony Hopkins.

Often called the successor to fellow Welsh actor Richard Burton, Hopkins was a celebrated stage actor (with notable National Theater credits in the 1960's) before making an auspicious film debut in The Lion in Winter (1968), as the scheming Richard the Lionheart. Hopkins won several awards for his 1975 Broadway debut in Equus, playing a psychiatrist who questions the meaning of his own life when he treats a passionate, disturbed young man who has blinded several horses. Ironically, Burton succeeded Hopkins in the Broadway production and starred in the film version.

Hopkins has played volatile, obsessed characters (the ventriloquist in Magic, 1978; Captain Bligh in The Bounty, 1984), as well as quietly repressed, mild-mannered types (Bruno Hauptmann, the accused kidnapper of the Lindbergh baby, in the excellent 1976 TV movie, The Lindbergh Kidnapping Case; the quiet London bookseller in 84 Charing Cross Road, 1987). He made an indelible impression, and broadened his audience considerably, as Hannibal "The Cannibal" Lecter, the brilliant, cultivated serial killer at the center of Jonathan Demme's The Silence of the Lambs (1991).