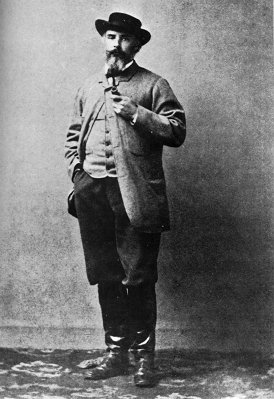 Matthew Baillie Begbie, British Columbia's top jurist in the latter half of the 1800's. He knew little of formal law, and he did not like law books, complaining that they were both confused and confusing...But if he lacked book learning, he had something better suited to the rough mining camps: a commanding presence, a powerfully developed morality and a bold willingness to act on his convictions. He was tall...bearded, handsome, with a voice that rose incongruously high when he was angry...He had with him at all times a wig and judicial robes, and never held court without donning them, whether in a miner's cabin, a barn, a saloon or on horseback in an open field.

He left little doubt where he stood on all matters. On one occasion, when the jury acquitted a man of assault in a barroom battle, his honor coldly addressed the accused, "Prisoner at the bar, the jury have said you are not guilty. You can go, and I devoutly hope the next man you sandbag will be one of the jury."

Begbie once wrote Governor Sir James Douglas, "My idea is that if a man insists on behaving like a brute, after fair warning, and won't quit the Colony; treat him like a brute and flog him."