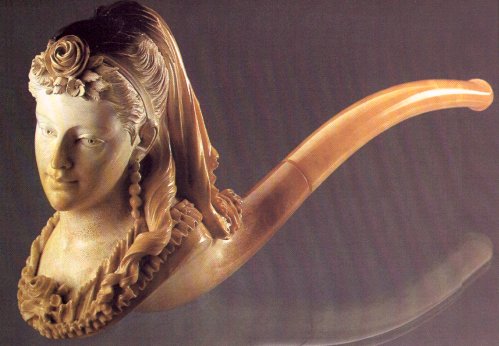 A postcard bearing this picture was sent to me by Tom Dunn, editor/publisher of The Pipe Smokers Ephemeris. I thought it was too beautiful not to share, so here it is. The reverse of the postcard bears this information:

Zigarrenspitze aus Meerschaum mit Bernsteinmundstück.
Reichgeschmückte junge Dame (H. 10 cm).
Ende 19. Jahrh.

I now have a translation of the above, thanks to my grandmother, Mabel (Treybig) La Rue. Of course, her German has become somewhat rusty since she was a child, so if any readers have a better translation, please let me know. In the meantime, here is her interpretation of the passage. Also, a Helpful Person has given me the last line by email.

Minor update 1 Dec 1997: Another Helpful Person has provided the final information I needed regarding the word "Zigarrenspitze." It means "cigar holder." Yes, this is not a pipe, it is a cigar holder, which, in the fashion of those times, held the cigar sticking straight up in front of the smoker's face. Somewhat peculiar in relation to today's fashion, but there you go.

Translation:
Cigar holder made out of meerschaum with amber stem
A richly adorned young lady.
End of the 19th century.