Harry Lillis "Bing" Crosby...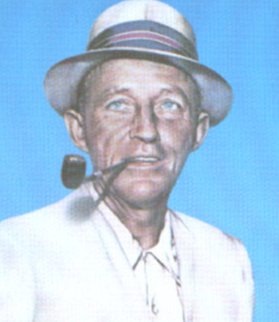 ...crooner extraordinaire.

Bing Crosby (1904-1977), popular singer, movie actor; born in Tacoma, Washington. Beginning as a vocalist-drummer with a combo while in college, he went on to sing with the Rhythm Boys for the Paul Whiteman Orchestra (1926-30). In 1931 he went solo and after appearing in nightclubs he signed a recording contract and appeared in eight Mack Sennett movie shorts. (By this time he had adopted the name "Bing," reportedly from a comic strip character.) This led to his fabulously successful career, with his own radio program (his theme song was "Where the Blue of the Night"), recordings, movies, and television appearances. As a singer, he borrowed from diverse styles including jazz and became one of the earliest crooners who established a clear split between classical and popular singing. His smooth, casual, almost "talking" approach to a melody and subtle use of embellishments highlighted the text of a song and inspired many singers who followed. He sang his signature song, "White Christmas," in the film Holiday Inn (1942). Before this he had appeared during the 1930s in several light musicals; in the 1940s he carved out a new career as the wisecracking companion of Bob Hope in the seven "Road" pictures; he also made several serious movies and won the Academy Award for his role in Going My Way (1944). He joined Louis Armstrong in the film High Society (1956) and on the album Bing Crosby-Louis Armstrong (1960). Returning to his roots in jazz, he was accompanied on later world tours by a quartet that included jazz players Joe Bushkin and Milt Hinton.