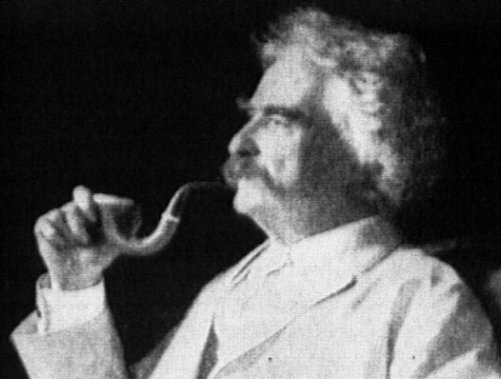 Mark Twain (November 30, 1835 - April 21, 1910), contemplating with a calabash.
Samuel Langhorne Clemens, born in Florida, Missouri into a poor family, at the age of 11 he quit school to become a printer upon the death of his father. He worked for his brother Orion as a printer for his newspaper for a few years but then left and spent time in St. Louis, New York City, and Philadelphia. In 1856, he moved to Cincinnati where he got on a riverboat headed for New Orleans. He wanted to go to South America to collect coca but he changed his mind and persuaded the pilot of the boat, Horace Bixby, to teach him to pilot. He received his pilot license in 1859. In 1864, he went to San Francisco to work as a reporter for "The Morning Call" and also to write for local magazines. He started to gain fame when his story "The Celebrated Jumping Frog of Calaveras County" appeared in the New York Saturday Press on November 18, 1865. From 1871 to 1891 he lived in Hartford, Connecticut. This is where he did most of his best work as a writer. His writings became more bitter and pessimistic as he grew older. He had always hoped for moral and social reform, but his hope decreased as he came to believe that people's actions are all guided by a tendency toward selfishness.
Preferred pipe: Though Clemens is often portrayed with a calabash, he owned several pipes and I have not read any evidence that the calabash was a particular favorite. He may have actually preferred the cigar to the pipe.
Preferred tobacco: It is said that Clemens liked to smoke Bull Durham in his pipes. Bull Durham is a tobacco made for rolling your own cigarettes, and is not normally smoked in a pipe.